Forage of the Month- April
Nettle & Green Pea Soup
If like me, you've had nettle soup in the past that's brownish and unappealing, this recipe is for you. It gives a smooth, bright green soup that tastes vibrant and slightly sweet from the peas. And it gives you the deep satisfaction of eating nettles: a wild food that's incredibly good for you and plentiful to forage.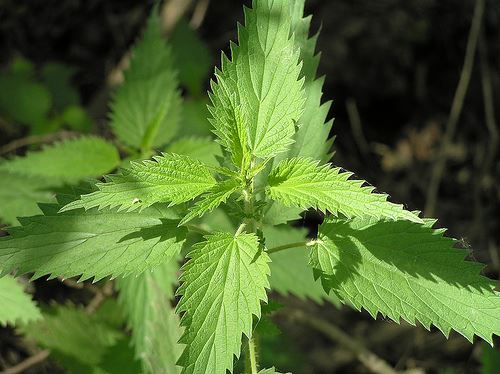 Ingredients (serves 4)
First pick your nettles, approx 100g (I tend to just fill a large colander), choosing the top leaves, as in the photo, before the plant flowers. Put the picked nettles somewhere where any small wildlife can escape, before you rinse the leaves.
You'll also need: 4 spring onions, 25g butter, 1 small garlic clove, 1 med-sized potato, 1.5 litres veg stock, 250g peas (frozen is fine)
Top and tail the spring onions, slice thin and let them soften with the butter and the peeled, chopped garlic in a deep saucepan.
Peel the potato, cut into small dice, add to onions. Continue to cook for a few mins then pour in the hot stock. Bring to the boil, then simmer 10-15 mins til the potato is tender.
Add the nettles to the pan with the peas. Season with salt and pepper if you like. Bring back to the boil and then simmer 7-10 mins til peas and nettles are tender but still bright green. Blend until smooth.
If you overcook the soup, you'll lose the beautiful fresh green colour of the nettles, so keep an eye on the timing.